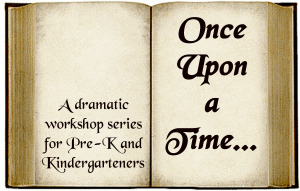 A great introduction to the world of theatre for Pre-K and Kindergarteners (ages 3 &up)! Games and exercises develop imagination and play, motor and language skills, focus, teamwork, self-confidence, and acting technique! Text is adapted from beloved Fairy Tales and Classic Fables from around the world!
Workshop dates: Tuesdays, January 8th – February 5th, 2018 
3:00 PM to 5:00 PM at The First Congregational Church of Williamstown.
Performance: 
February 5th at 5:00 PM
Pre-K and Kindergarten (Ages 3 & up)
Workshop Fee: $75
Lead Teaching Artist: Jennifer Y Howard
Questions or for information on tuition assistance, email us at: info@minervaartscenter.org