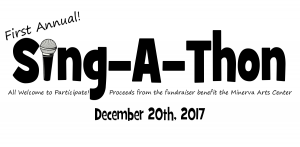 Join us on December 20th for a fun-filled afternoon and evening of karaoke-style singing!  Participants will have the opportunity to sing individually or in groups, racking up credit for every song performed!
Similar to a walk-a-thon, this event will allow students and adults to raise funds for the "Build the MAC" campaign – an ongoing campaign to acquire property for a Performing Arts Center in Northern Berkshire County!
Register today to start gathering pledges!
Download the pledge sheet here: Sing-A-Thon 2017